dynamite parties
COME CELEBRATE WITH US!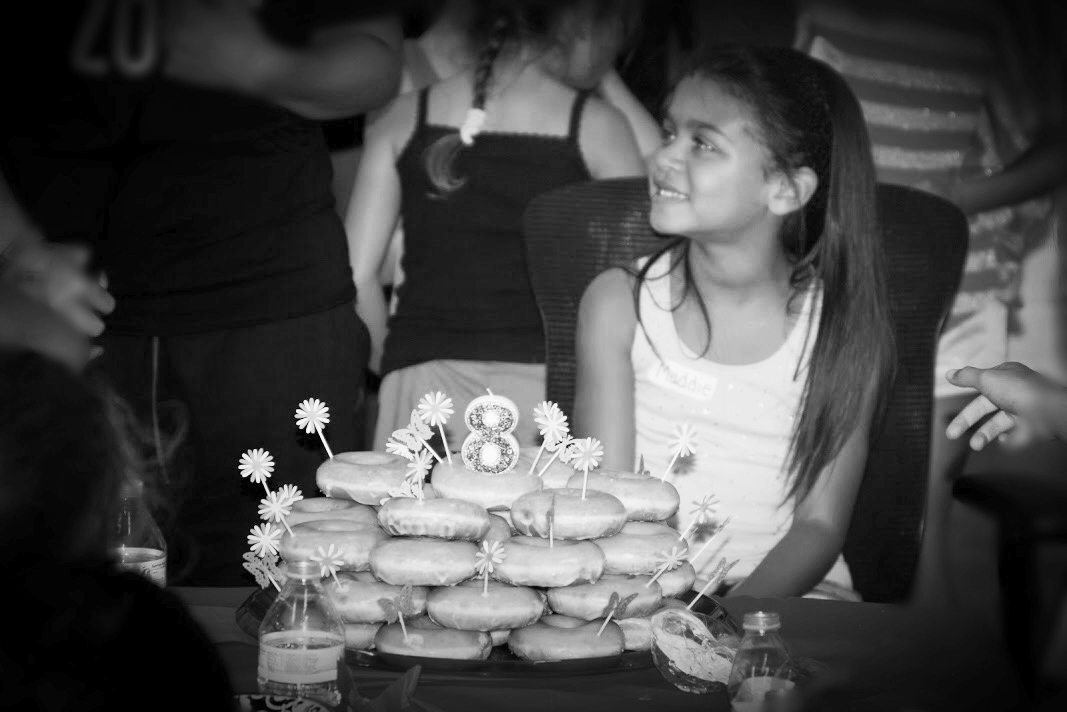 HAVE A DYNAMITE PARTY!
Oh, birthday parties. Kids can't wait for them. Parents want them to be a hit.
Dynamite parties are so easy, you can be part of every minute of your kid's special day! Our birthday parties are famous for ensuring the children have a blast and the parents get to relax and actually enjoy the fun. Really, it's a piece of cake. ;)

Choose to host your party at Dynamite and watch your birthday star and friends jump, run, climb, swing, and play to their heart's delight in the safest environment possible. Our experienced party supervisors take care of every detail to ensure your party is a success. We do the heavy lifting: leading games, serving the food, organizing the gifts and cleaning up.
60 minutes in the gym, 20 minutes in the party room, and 10 minutes for goody bags and good-byes.
Dynamite2 supplies table cloth and paper products (pick from blue, green, red, purple and pink), juice or water, and goody bags for birthday child and guests. Parents are welcome to bring food from a certified kitchen; please bring paper products and serving supplies for parents.
Three party packages (based on number of participants) : Boom (up to 10 kids + 2 instructors), Blast (up to 16 kids + 3 instructors), Big Bang (up to 24 kids + 4 instructors + inflatable). Add more kids ($20 per guest).
Choose instructional (cheer, gymnastics, agility and/or preschool) and/or open gym.
Special Nerf gun and Cheer routine parties available (at 4pm only).
Party slots: Saturday and Sunday from 2:00 - 3:30pm and 4:00 - 5:30pm.
Looking for a time outside of our scheduled party times? Send us a request at hello@dynamite2.com.
party themes
PICK THE PERFECT STYLE FOR YOUR CHILD'S SPECIAL DAY
SPECIALIZE YOUR PARTY
Dynamite2 has several party themes and packages to choose from. Party themes are ADD-ONs (select after picking your child's party package). We are happy to create combination parties that include open gym, instruction, and games. We endeavor to make every child's birthday memorable and are eager to work with parents to make it happen!
GYMNASTICS, CHEER, AGILITY OR TUMBLING INSTRUCTIONAL PARTY
No charge; however, extra instructors ($45 each) may be required to maintain an instructor:student ratio of 6:1
Instructional parties are similar to open gym parties, except that our facilitators choose specific equipment, split the guests into groups, and run the party like a class. Work with our staff to choose the type of skills the kids would like to learn on trampoline, beam, bars, or our spring floor—it's all up to you! If you'd like to have half instructional, half open gym or games, we can do that too!
OPEN GYM PARTY
No extra charge
Open gym parties are perfect for kids who just want to run around and play on the equipment (we suggest adding our obstacle course inflatable). We are happy to spend time playing parachute games with little ones, and incorporating relay races, tag and find the birthday kid for older kids. Our party facilitators will be on hand to help our guests stay safe by enforcing gym rules.
INSTRUCTIONAL & OPEN GYM PARTY
No extra charge
Why pick when you can choose both?
Spend the first half or so (it's up to you) of the party learning a few skills and how to use the equipment; play and practice for the second half hour! Feel free to mix it up with games and other things—whatever it takes to make your child's special day even more perfect!
CHEER ROUTINE PARTY
$45 (for extra instructor for safety reasons)
Kids ages 5 and up, will be taught jumps, choreography, and stunting skills, as well as cheer tumbling, before learning a complete cheer routine, which is then performed for the birthday party families! All instruction will be geared to the participants' ages and abilities. We are happy to work with families to create the perfect celebration experience. For an additional $10 per child, we offer a birthday-themed cheer bow for the girls to wear in a high ponytail and take home as a memento of a uniquely fun party!
NERF GUN PARTY
$45 (for extra instructor and set-up) + $3 per rental gun (ammo included)
Our Nerf gun birthday parties are a blast! For kids ages 6 and up, we offer a chance to compete in various game formats in the gym, using gym equipment and blocks as obstacles and aids in planning strategy. Play options include capture the flag and hide and seek. All participants are provided with safety goggles and have color vests when on opposing teams. This party option requires an additional staff member.
Participants may bring their own guns and ammunition, or rent our guns. Our rental guns are the N-Strike Elite Disruptor and Strongarm Blaster, Zombie Strike Hammershot Blaster, N-Strike Elite Retaliator Blaster, and N-Strike Mega Mega Mastodon (quantities are limited and subject to availability).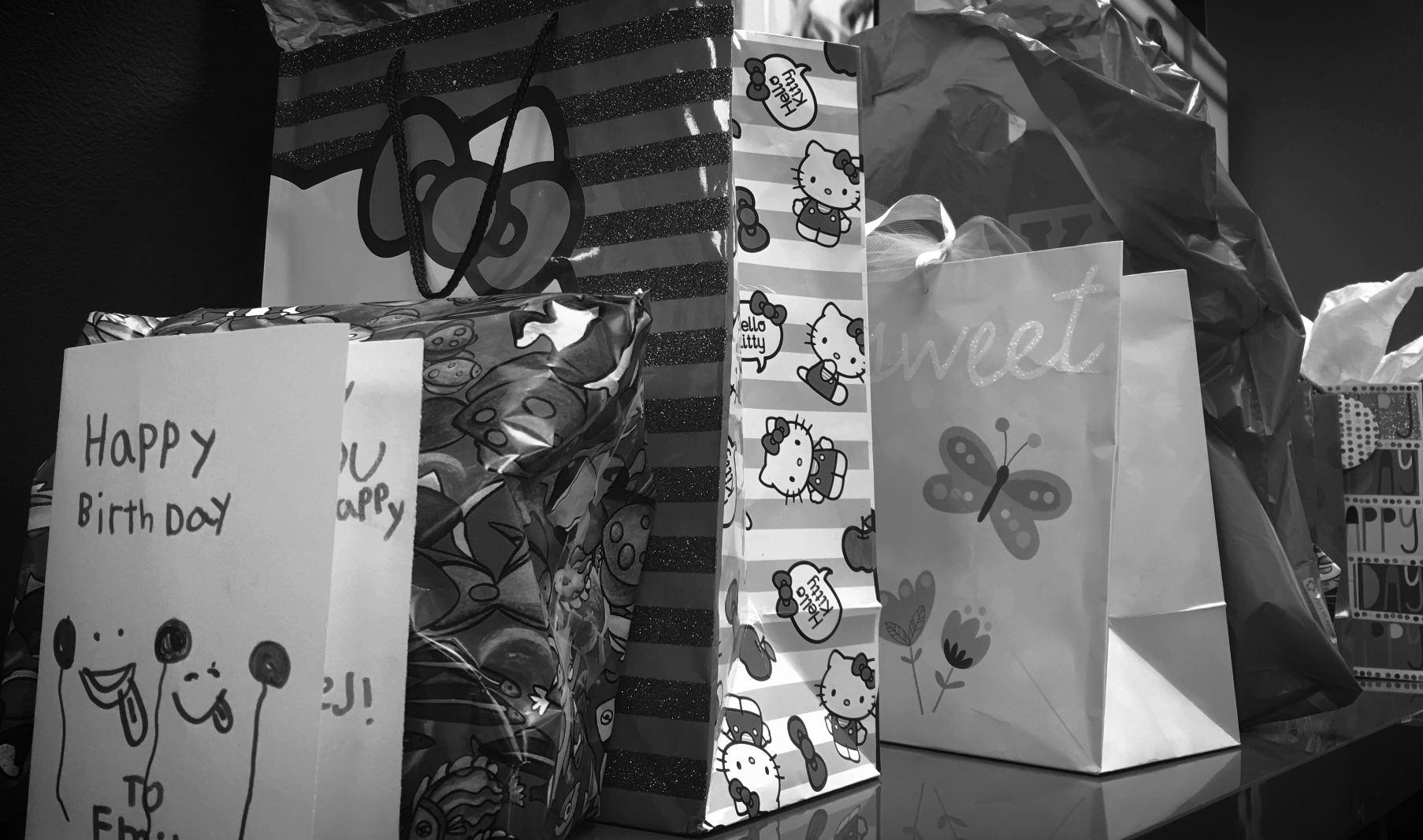 PARTY PACKAGES AND PRICING
Please confirm your party package AT LEAST TWO WEEKS prior to your child's party date. After that date, it is difficult for us to add or subtract staff members, although you are welcome to change your pizza numbers up until the day before the party. Note that our safety instructors are present to enforce safety rules and lead the party; they are not responsible for spotting or supervising guests. Please be sure to have enough parents at the party to help supervise younger children.
BOOM!--$265
10 children including the birthday child

Two (2) Dynamite safety supervisors
BLAST!--$345
16 children including the birthday child

Three (3) Dynamite safety supervisors
BIG BANG!--$465
24 children including the birthday child

Four (4) Dynamite safety supervisors

Includes our inflatable obstacle course
WHAT'S INCLUDED?
No matter which package you choose, you can count on the following:
Exclusive use of the entire gym for 60 minutes

Supervised access to gym equipment

20 minutes in the party room for food and cake, served and cleaned up by Dynamite staff

Paper products (i.e., cups, plates, napkins) in your choice of colors (blue, red, pink, purple) and plastic cutlery for children

Juice or water for children

Kid-pleasing goody bags with a random assortment of age-appropriate items

Experienced, enthusiastic staff who ensure all partygoers have a great time
CUSTOMIZE YOUR PARTY
PIZZA: Cheese or pepperoni: $13/each
We love pizza as much as the next guy! Order as much as you'd like!
If you prefer to order your own pizza, feel free! Just let us know the day of the party.
INFLATABLE: $35 (during the gym portion of the party)
Our inflatable obstacle course is designed to withstand even the most energetic of party guests.
EXTRA GUESTS: $20/each
The more, the merrier! We understand that some party guests just can't be left out! We're happy to accommodate extra guests for an additional fee.
ADDITIONAL TIME: $80/additional 30 mins.
For the last party of the day, we're excited to offer the option of adding an additional 30 minutes of party fun! We'll keep the gym open, you'll keep it rockin'!
EXTRA STAFF and MOTION EDUCATION STAFF: $45/per staff member (during hour in the gym)
We strongly believe that all birthday kids are entitled to a super special birthday celebration. We're happy to provide additional staff upon request (contingent upon availability), or our specially-trained staff for any birthday child or guest(s) who requires special support. Please provide ample notice, as Motion Education coaches (special needs coaches) are in high demand and not always available.
INFORMATION FOR PARTY HOSTS
1) Book your party online including party package, add-ons (including party theme), color scheme and a $200 non-refundable deposit).
2) At least TWO WEEKS* prior to the party date, confirm party package, add-ons and party colors.
3) On the day of the party, bring your cake and candles; we will do the rest to make your child's birthday one of a kind!
4) At the conclusion of the party, pay the balance, and distribute tips (if desired).
*Any changes to party package must be made at least two weeks prior to the party date. Within the last two weeks leading up to the party, we will do our best to adjust party sizes up but not down (we are happy to try to bring in an additional staff member, but we will not send our staff home after they are scheduled to work).
In addition to the party package price, you will be charged for any additional guests (beyond the base number included in the package) based on the number of children who participate (go on the equipment) during the party.
GYM RULES (please read in Party Guest Info):
Please recommend that your guests read the gym rules. Depending on the age of the guests, they may require parental supervision. We keep a strict ratio of approximately 6:1 students to facilitator; however, for safety reasons we ask that parents stay with children who will need help following gym rules.
SET UP:
Arrive no more than 10 minutes prior to the start of your party to set up. You are welcome to decorate as much as you would like, just be sure to remove all decorations before the end of the party. Discuss your child's party with the lead facilitator to make sure the party is exactly how you want it!
FOOD RULES:
Bring the cake and candles—we do the rest. Additionally, you are welcome to bring any and as much food as you would like (made in a certified kitchen). Please bring paper products for the parents as Dynamite only supplies paper products for party kids. You may order pizza yourself or as part of the party package through out website. NO FOOD OR DRINKS ARE PERMITTED IN THE GYM.
LEAVING:
Children are typically done eating (especially if only cake is served) in about 20 - 25 minutes. After eating, children may put on shoes, socks, coats, collect their belongings and get a goody bag on the way out. Our staff will take care of the cleaning while you say your good-byes, and help you pack up gifts, remaining cake and whatever else you need help with. We are here to do the heavy lifting so you can spend time with your birthday child and guests.
INFORMATION FOR GUESTS
ARRIVING:
Please arrive no more than 5 - 10 minutes prior to the start of the party. Place gifts on the designated table and get a name tag for your child.
GYM & EQUIPMENT RULES:
Before entering the gym, all children must remove shoes, socks, buckles and belts (no zippers, please), while parents need only remove shoes. all bare feet must be wiped (with wipes provided).
Parents are NOT permitted on any equipment at any time; however, they may assist their kids from the floor. We require that guests ages 5 and under MUST be supervised by parents in the gym for safety.
NO FOOD OR DRINKS PERMITTED IN THE GYM.
Sign the waiver before the party to save time!